What is Kofu like?
Just outside the reach of the major metropolitan area of Tokyo, Kofu is the capital of Yamanashi prefecture. Yamanashi is one of the prefectures surrounding Tokyo, but unlike the other prefectures surrounding Tokyo, Yamanashi is encompassed by very tall mountains, one of which being The Mt. Fuji. While Shizuoka and Saitama were quickly influenced and developed through the power of the Tokyo Metropolitan area, Yamanashi's mountains have prevented this as travel options are limited.
The surrounding mountains also affect the weather! Being one of the only prefectures in Japan with no sea, the weather here is a bit drier than other areas, and so the 4 season are more prominent here, with cold and dry winters balanced by a hot and humid summer, leaving fall and spring as the most beautiful and comfortable seasons.
Yamanashi is also rich in history as this prefecture was home to the most famous and powerful warlord before Japan was united under the Tokugawa, Takeda Shingen. His stories live on, and you can see the effects of Shingen's rule still to this day.
Today Yamanashi is known for it's delicious fruits and wine, which are sought after by Japanese people throughout Japan. These fruits are the highest quality fruits you can find in Japan, and are often at a high price in the bigger markets. If you're interested in buying fruits I suggest trying to go straight to the farms to get the best deals, or making friends with the farmers. However if you're able to do so, you might end up with more fruits than you can eat as farmers are constantly trying to give away the fruits that they aren't able to send to the markets. ww
As for Kofu, it's remained out of the reach of the Tokyo effect and is quite countryside compared to the surrounding prefectures, although that is Kofu's secret charm. The quiet city surrounded by breathtaking mountains creates a cozy atmosphere and if you make friends with the locals, you will find people here are especially friendly and warm! Let's look at some of the sightseeing spots you should visit while you're in the area!
My Must-see Spots in Kofu
Maizuru Castle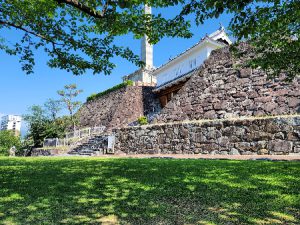 This historical site is built on the remains of Maizuru Castle. From the very top of the castle grounds you can get a great view of Yamanashi's basin and surrounding mountains, and on a clear day you can see Mt. Fuji peeking over the Southern Alps. There are also many beautiful Sakura trees during Spring, and great colorful foliage during Fall.
Shosenkyo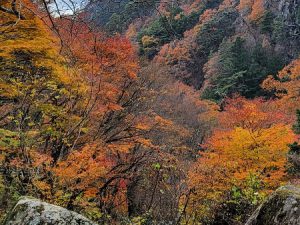 If you're lucky enough to be in Japan during Autumn, there aren't many places better to view the foliage than Shosenkyo. This gorge is at the North End of the Kofu area, and you can get there easily from Kofu station by bus. The walk up the gorge also leads to a waterfall, and on a sunny day you'll catch a rainbow.
Kosaku
This restaurant serves Yamanashi's famous local dish called Houtou. Is a soup serving up miso, vegetables and very thick wheat noodles. There's nothing better than a hearty soup during the cold seasons, so please come try this local dish. The portion size here is quite large so if you can't eat much in one sitting, you can ask for a smaller portion!
Yume Kouji
Located right on the North Side, these cute buildings are styled off of traditional Japanese factories. In these buildings are small cute shops, and a lot of delicious restaurants and cafes. This is a great spot to get lunch or dinner and buy some souvenirs while you spend some time in the Kofu area.
Hottarakashi Onsen
One thing that Yamanashi is known for by the Japanese is the Onsens! Knowing that half of Mt. Fuji is located in Yamanashi doesn't make it a surprise that there is a lot of geological activity happening under the ground, and that means beautiful hot springs! One of the most famous ones is a few stations away from Kofu at the top of a mountain. This 24/7 Onsen offers an amazing view of the basin, and the night view of the city from the outdoor Onsen attracts customers from all over Japan.
Takeda Shrine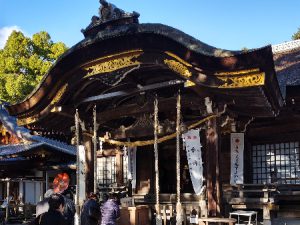 Built in the name of the warlord Takeda Shingen, Takeda Shrine is the most famous shrine in Yamanashi! With so much history and beautiful shrine grounds and architecture, this is a great spot to visit especially if you're interested in Japanese culture! You can get there by bus from Kofu station, or take a 30 minute walk from the north gate.
After visiting some great spots during the day, that brings us to the problem of what to do at night! There are a ton of amazing restaurants and bars to enjoy some great food and good drinks at during your stay in Kofu. Here are my top recommendations in Kofu for good places to hang out at and get some food and drinks.
My Recommended Restaurants and Bars
Flint (English Speaking)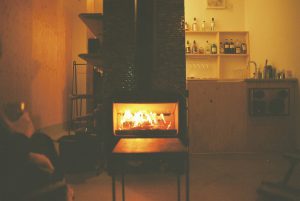 Flint is a new addition to Kofu's bar scene. It opened in 2021 and quickly became popular due to the wood stove placed in the center of the bar. In the winter time, there's nothing better than enjoying a drink in front of a warm fire. This casual bar mainly serves whiskey and gin, and recently has started serving craft beer on tap! Flint only serves light food and snacks so if you're searching for dinner, it's best to go eat at one of the many options near by and come afterwards to enjoy a few drinks with warm company!
Click here to see Flint in Google Maps
Click here to go to Flint's Instagram page
nap bed&lounge (English Speaking)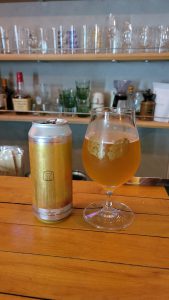 nap bed and lounge is unmatched in style and atmosphere. This casual bar serves amazing hamburgers, and a selection of craft beers from around the world. nap recently opened a second location for customers looking to buy beer to bring home, really the selection of beers is endless with something to match everyone's taste. The community here is also tight and welcoming, and you're sure to enjoy a conversation with the locals while you spend a great night here. There's also rooms to stay in on the second floor so if you're travelling check out nap for a cheap and comfortable bed to stay in overnight!
Click here to see nap in Google Maps
Click here to go to nap's Instagram page
OASIS (Foreigner-friendly)
Calling all wine lovers! This cute wine bar gives a cozy and eclectic atmosphere that anyone is sure to enjoy. There is a wide selection of food options and local wine from all over Yamanashi prefecture! The staff here are very friendly and accommodating. This bar is also pretty small, so for people who like a smaller atmosphere, this is the spot for you!
Click here to see OASIS in Google Maps
Click here to see other's Instagram posts of OASIS
Hops & Herbs(English Speaking)
This is one of Yamanashi's craft beer breweries, and the beer here is delicious. The owner of the bar is from Australia and has been making beer here in Yamanashi for many years, and has acquired a strong following of beer lovers. There is also a selection of delicious foods to eat while enjoying your craft beer of choice. There are also many seasonal beers that the staff here create to match their own tastes so there's always something new to try. If you like beer, you can't go wrong here!
Click here to see Hops & Herbs in Google Maps
Click here to go to Hops & Herbs' Instagram Page
Jewels & Things(foreigner-friendly)
This small bar is also a jewelry store, and often have events inviting local DJs to play their sets. It's a super unique atmosphere with a stylish interior, and the handcrafted jewelry is interesting and cool with something to fit everyone! If you're able to catch one of the events going on here, you're sure to have a great time and meet some interesting people.
Click here to see Jewels & Things in Google Maps
Click here to go to Jewels & Things' Instagram page
Osteria Ricca (foreigner friendly)
This cute little restaurant serves great fresh Italian food, and many different wines at an extremely reasonable price. If you're able to go for lunch the price is even better, but the full course meal at night is a great deal as well. This restaurant is owned and run by a wonderful couple, and you will definitely leave feeling full and satisfied. Please give this place a try if you love fresh pasta!
Click here to see Osteria Ricca in Google Maps
Click here to go to Osteria Ricca's Instagram page
createkitchen SURUME (foreigner friendly)
This is my number one recommended date spot in Kofu! This super fashionable restaurant serves many different cuisine. The feeling is a fusion of east and west, and between the bold flavors and wide selection of wines, your date is sure to be a success. Of course you can come here casually as well, but if it's a weekend night I recommend making a reservation. Please try this place out, you won't be disappointed!
Click here to see SURUME in Google Maps
Click here to go to SURUME's Instagram page
KAERU SHOUTEN (foreigner-friendly)
This cozy sake bar is super stylish with a great selection of creative cocktails and delicious food! The owner is super friendly and has created his own community through the bar. The food is all Japanese cuisine with a modern twist and the cocktails are all created by the owner himself. The drink menu is seasonal, always giving customers a fresh feeling. This small bar is sure to impress so please give it a try.
Click here to see KAERU in Google Maps
Click here to go to KAERU's Instagram page
Sakaba Rappa (foreigner-friendly)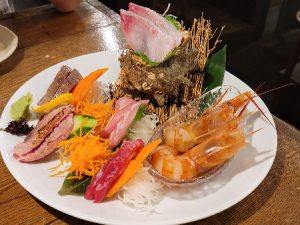 This Japanese style izakaya is very popular amongst the local people. With is modern take on many classic izakaya foods, and delicious drinks there's no one who leaves unsatisfied. Just a 5 minute walk from Kofu station, this is the place to go to eat delicious Japanese foods with your friends. The cozy interior and extremely friendly service and atmosphere is sure to impress!
Click here to see Rappa in Google Maps
Click here to go to Rappa's Instagram page
Please Enjoy Yamanashi!
I highly recommend all of these spots if you traveling in the Kofu area, or live here and are looking for a new spot! You can't go wrong with these ones. If you visit any of these places please tell them our blog sent you if you have a chance to speak with the owners! There are so many more great places in Kofu, so please enjoy your time here in the beautiful prefecture of Yamanashi!